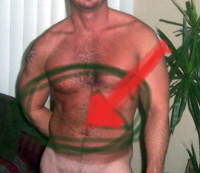 I'm one of those dumb shmucks who admits all his faults (like I would rip Augusten Burroughs out of rehab and stuff my cock down his throat - AND THEN tell him maybe I'm not good enough for him)...
This is the pic I put on Gay
-waste-alot-of-my-friggin-time
.com and well yeah the torso was looking pretty sweet - but as a college "reality" major - the tummy is well a little more bearish. A lot of boozing, fast food, comfort food and for the first time in my entire life - a complete lack of working out - well I look like a pretty straight guy - 'cept the pretty and definately except the straight.
Maybe the Keebler Elves will want to bone me...